Kokosnoot helpt bij of tegen: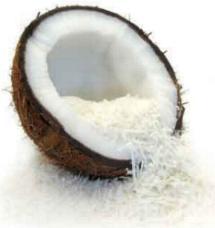 Ondervoeding kinderen

Hart problemen

Ziekte van Alzheimer (olie)

Kanker (olie)

Diabetes

Chlamydia

Ontgiften

Hoog cholesterol

Afvallen

HIV

Parasieten

Herpes

Oedeem

Constipatie
Kokosnoot helpt organen en systemen:

Voortplantingsorganen

Hart
Gezonde nutriënten in kokosnoot:

Molybdeen

Mangaan

Koper

Zink

Selenium
Opmerkingen:
Kokosolie is een tropische olie, die ook wel bekend is onder de naam kokosvet of klapperolie en die wordt verkregen door persen of extractie van het witte vruchtvlees van de kokosnoot. Zo'n twee derde van het droge gedeelte van het kokosvlees bestaat uit olie.
Kokosolie bestaat voor bijna 86% uit verzadigde vetzuren, waarvan 68% uit middellangeketen vetzuren. Het overgrote deel hiervan is laurinezuur. Deze middellangeketen vetzuren worden veel sneller omgezet in onmiddellijk bruikbare energie en bijgevolg veel efficiënter verbrand dan andere vetten. De meeste andere plantaardige oliën en vetten bestaan uit langeketen vetzuren die niet direct opgenomen worden, maar eerst afgebroken moeten worden in het eerste deel van de dunne darm.
Kokosolie is zeer geschikt om in te bakken en/of frituren, omdat door de aanwezigheid van veel verzadigde vetzuren de gevoeligheid voor oxidatie zeer minimaal is.
Beneden 24 °C is zuivere kokosolie trouwens gestold en heet het kokosvet.
Vermijd gehydrogeneerde of geharde kokosnootolie, want dat is slecht en verhoogd o.a. het cholesterol. Het smeltpunt van deze olie ligt op 36–40 °C, en beneden die temperatuur noemt men dat ook kokosvet.
Kokosmelk of klappermelk is niet te vergelijken met kokosolie, het wordt verkregen door het kiemwit van een kokosnoot met water te vermengen en uit te knijpen.
X Kokosolie blijkt volgens een voorlopige studie te zorgen voor een lagere bloeddruk en flink lager als men er ook nog eens meer bij gaat bewegen.

X Uit een studie zowel in het laboratorium als later met muizen blijkt dat kokosnootolie wellicht een goed alternatief kan zijn voor antimycotica, medicijnen met schimmelbestrijdende werking. Antimycotica kan bij vaker gebruik leiden tot resistentie en extra kokosolie bij de voeding bleek schimmelinfecties als Candida albicans te kunnen bestrijden.

X Onderzoek laat zien dat kokosnootolie nog beter beschermt tegen allerlei insectenbeten als het veel gebruikte middel DEET. In de studie werd een mengsel van 7% kokosnootolie vermengd met water en maïszetmeel gebruikt.

X Een ketogeendieet aangevuld met veel vetten van kokosolie lijkt de overlevingstijd bij een gliobastoom duidelijk te kunnen verlengen zo blijkt uit een voorlopige studie.
Meer (wetenschappelijk) nieuws over kokos(olie)
Hier een site over de voordelen van goede kokosolie en de ziekte van Alzheimer, kanker, en andere ziektes.
The Many Benefits of Coconut Oil and Coconut Butter

Research indicates, animal fats have long chain saturated fat, while coconut oil contains healthy, healing, medium chain triglycerides (MCTs). This saturated fat is considered a rare and important building block of every cell in the human body, and can actually reduce cholesterol and heart disease.
This incredible food boosts immunity, kills bacteria and viruses, protects against cancer and other degenerative diseases, and prevents osteoporosis by promoting calcium absorption. It also slows down ageing and is good for skin radiance.

Weight Loss from Coconut Oil/Butter
American farmers attempted to plump up their cattle by feeding them coconut oil. Instead of gaining weight, their cows lost weight!
This is because:
1. The long-chain fats nearly always go to fat storage, while the MCFAs (medium chain fatty acids) are burned for energy... which is why you feel great after eating this coconut super food.
2. Coconut oil helps to stimulate the metabolism, so you burn more calories each day, which helps with weight loss and energy levels.
Coconut Oil/Butter is Packed with Lauric Acid
Coconut oil, like human breast milk, is rich in lauric acid, which boosts immunity and destroys harmful bacteria and viruses. In fact, coconut oil is one of the closest foods on the planet to breast milk.

Scientists in the Philippines researched the effects of coconut oil and lauric acid on patients with the HIV virus that causes Aids. The results were amazing. Most of the Aids patients showed a dramatic drop in the HIV virus count, in some cases to "undetectable" levels. While there needs to be a lot more research, there is certainly evidence to suggest that people with this virus would benefit from having a diet rich in coconut.

Lipid researcher Dr. Jon Kabara says "Never before in the history of man is it so important to emphasize the value of Lauric Oils."

Coconut Oil/Butter Kills Candida (Yeast Infections)

Coconut oil has been shown to kill the Candida Albicans yeast, which is caused by antibiotics, birth control pills, and modern living. It has caused a whole generation to be tired, foggy headed, unable to optimally digest food, and suffer from a range of other illnesses.
Yet many sufferers have claimed that their health has dramatically improved when using coconut products. This could be due to the fact that coconuts are a dense source of caprylic acid, which has anti-fungal properties. It could also be due to the fact that these people replaced regular milk (which is generally toxic and bad for candida sufferers) with the milk from coconuts.

Healthy Skin

Coconut Oil/Butter has youth enhancing, glow encouraging properties for the skin. It is highly moisturizing and promotes skin elasticity.

Switching to Coconut Oil can Prevent Diabetes

Coconut oil is an ancient super food that has been an essential component to many of the earth's healthiest cultures. Cultures that have consumed high amounts of coconut oil generally have not suffered with diabetes, as well as many other diseases. Unfortunately, as many of these people abandon their traditional ways of eating, they begin to suffer with diabetes, since coconut oil has been shown to protect people from this illness.

For example, the people who live on the island of Nauru in the South Pacific have enjoyed a diet of mostly bananas, yams and coconuts. Diabetes was a completely unknown illness. As the island became healthier and their lifestyle and diet began to include refined flour, sugar and vegetable oils, diabetes appeared. According to the World Health Organisation, up to one half of the urbanised Nauru population age 30 - 64 are diabetic today.

Although few people make the association between refined vegetable oils and diabetes, the link has been well researched. In the 1920s Dr. S. Sweeney studied the effects of vegetable oil on his student. His research showed that a diet high in vegetable oil could cause reversible diabetes within 48 hours in subjects who had not been previously diabetic. A 1998 study published in Metabolism showed that diabetes could be reversed by cutting out polyunsaturated fat. The same results have also been shown in humans.

What is the Difference Between Coconut Oil and Vegetable oils?

There is a molecular difference between coconut oil and all other common vegetable oils such as olive, sunflower and safflower oil. The molecules that make up these polyunsaturated oils are made up of a long chain of fatty acids. On the other hand, virgin coconut oil is made up of smaller molecules or medium chain fatty acids.
Long chain fats are either deposited in blood vessels as cholesterol or stored around the waist, thighs and buttocks as energy stores of fat for emergencies. Medium chain fatty acids are used immediately as a source of energy.

Why Regular Oils Can Potentially Cause Diabetes

Most people with diabetes are on strict low fat, high carbohydrate diets in which the limited fats allowed are restricted to polyunsaturated vegetable oils such as olive, safflower, or sunflower oils. However, studies have shown that if the fats consumed are polyunsaturated, long chain fats, this decreases cell's ability to bind with insulin, and reduces their ability to absorb glucose...especially when these oils are heated during cooking. In other words, polyunsaturated long chain fats, commonly thought to be "healthy", actually make diabetes WORSE!
Furthermore, polyunsaturated vegetable oils can cause free radical damage to the cells, and adversely affect their ability to function. The bottom line is that cooking with polyunsaturated vegetable oils, such as sunflower oil and olive oil, should be avoided by people with diabetes.

Why is Coconut Oil so Beneficial for Diabetes?

The smaller and more easily absorbed medium chain molecules found in coconut oil supply the cells with essential fatty acids without inhibiting insulin and without glucose, so they combat insulin resistance. Virgin coconut oil is a totally unique super food that serves as an energy boost to the body, without causing a spike in blood sugar levels.
Researchers have discovered that while heavy foods (including polyunsaturated oils) slow down the metabolism, organic coconut oil actually stimulates the metabolism to assist the fat burning process, even when they are heated. In simple terms, simply substituting your normal cooking oils with coconut oil can be a tremendous remedy for diabetes, and, along with avoiding sugar and getting plenty of exercise, can help prevent people who don't suffer from this dangerous disease from suffering later in life.
Learn How to Detox with a Coconut Oil Cleanse

With fad detox methods around every corner, it's hard to know which one can provide a healthy cleanse without unpleasant side effects. A coconut oil detox is an excellent way to cleanse without using complicated formulas or living off nothing but water for days on end. Coconut oil is a powerful cleansing food that also provides plenty of natural energy during a detox.
Coconut oil is largely comprised of medium-chain fatty acids, which are sent directly to the liver for energy rather than storage. This type of fat is ideal for a cleanse, since it can provide the energy needed at a time when less food is being consumed.
These same medium-chain fatty acids play a crucial role in cleansing the body from toxins. Coconut oil is heralded as a natural health food, and a coconut oil detox simply speeds up healing results by thoroughly flushing the entire body of toxins in a short time. Here are just four types of conditions coconut oil can combat during a detox:

- Candida. In modern society, candida overgrowth is almost an epidemic. More people are experiencing systemic candida, when the problem spreads throughout the body and causes a myriad of unpleasant side effects. A coconut oil detox is completely void of sugar and other carbohydrates, which effectively starves off all candida in the system. People who suffer from candida will notice many conditions improve or disappear after a coconut oil detox, including sugar cravings, fatigue, eczema, acne, repeat sinus infections and poor concentration.

- Fungal infections. Often connected with candida, repeat fungal infections like ringworm and jock itch are linked to an imbalance of bacteria and fungal organisms in the body. The lauric acid and caprylic acid in coconut oil are antifungal, so a coconut oil detox is an effective way to cleanse the entire system of fungal growth. Many people with fungal conditions report a complete recovery within the cleansing period.

- Digestive conditions. A coconut oil detox can help banish digestive conditions like irritable bowl syndrome (IBS) and leaky gut syndrome by restoring health and balance to the digestive system.

- Viruses. Lauric acid, which is found in abundance in coconut oil, is converted into monolaurin in the body, which has strong antiviral properties that can protect against and even destroy lipid-coated viruses like herpes and influenza.

How to Detox with Coconut Oil

A coconut oil cleanse is a very simple detoxification method that replaces regular food with coconut oil, usually for about 3-7 days. Start your day with two tablespoons of coconut oil and take 1-2 tablespoons throughout the day as necessary for up to 14 tablespoons total each day.

Take the coconut oil plain if you enjoy it that way, but those who can't tolerate swallowing the oil straight can mix it with warm lemon water or plain organic yogurt if necessary. You can use stevia if you'd like to sweeten the lemon water or yogurt, but no sugar should be consumed during the cleanse. In his book Coconut Cures, Dr. Bruce Fife adds that you can eat up to four ounces of fresh coconut meat daily while on the detox if needed.

The best kind of coconut oil to use to detoxify is organic, raw extra virgin coconut oil. This type of oil should be completely unrefined, expeller- or cold-pressed, unbleached and not deodorized. This ensures you are getting the maximum natural benefits from your coconut oil.

If you have never taken coconut oil before, then you'll want to let your body adjust by slowly incorporating it into your diet before trying a coconut oil detox. Start with 1/2-1 teaspoon three times per day. Gradually work your way up to 1-2 tablespoons three times daily. It may take two weeks to work up to the full amount. When you feel comfortable taking this much coconut oil, then you should be ready to start a coconut oil detox.

Some people will experience "die-off" symptoms when they begin a coconut oil detox. These symptoms are often flu-like, including headaches, joint stiffness, dizziness and foggy-thinking. It may not feel so good, but it's a sign that your body is ridding itself of harmful toxins like fungal organisms. Die-off symptoms usually only last for 3-5 days, but you can ease them by gradually introducing coconut oil to your diet before doing a detox.

During a coconut oil detox, it's important to drink plenty of filtered water to nourish the body and facilitate cleansing benefits. Here is a recipe for a delicious drink that can replenish you during a cleanse:

1 cup pure lemon juice
6 cups filtered water
1 teaspoon sea salt

The lemon juice has cleansing properties, and the sea salt replaces minerals that may be lost during a cleanse. Add stevia for a sweeter taste, but do not sweeten with any kind of sugar.

Remember, if you have medical conditions or if you are on prescription medications, it's important to talk with your physician before trying a coconut oil cleanse.


Algemene opmerking:
(12-11-2018)